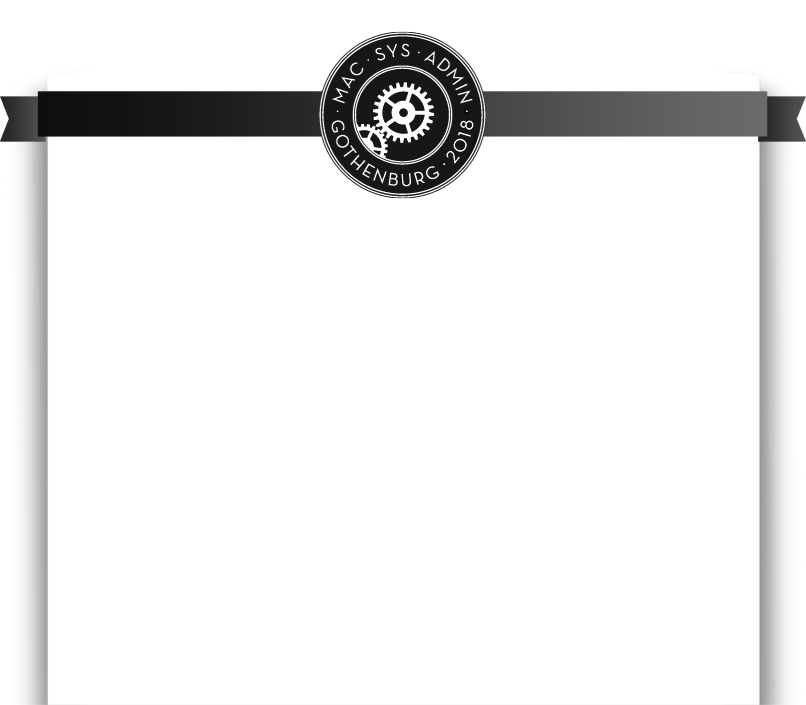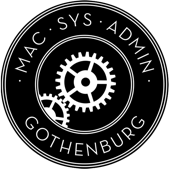 09.00 - 09.25
Sponsor: MOREWARE
Jörgen Olsson, SE.
Securing research. Your institution's research work is valuable. For your faculty, it could be their life's work. How do you protect the data without burdening faculty and staff?
Code42 Next-Gen Data Loss Protection (DLP) offers data protection designed for the unique challenges of educational institutions. The solution automatically and continuously protects every file on every device all the time, so no matter what happens, you always have access to your data, helping you stay in compliance and preserving valuable research data. When data is affected by loss, leak or misuse, Code42 Next-Gen DLP helps you investigate what happened, and quickly recover any affected files.
We will show you how.
09.35 - 10.30
A BLAST FROM THE PAST
Charles Edge, US.
Knowing how we got here shows us the future of where we're going. The more things change, the more they stay the same. What Apple device management options did we have in 1985? How have those evolved over the years?
What words did we use in a land far, far away? What words do we use today? What factors have caused us to go from the old ways to the new ways? What might trends from the past 30+ years tell us about what to expect next and how to plan our deployments to be a little future-proofed so we don't have to do so much work every year?
We'll let someone else cover all that. In this session, we'll have a lot of pictures of baby animals instead. Just kidding. ...or are we?
10.55 - 11.50
AN INSIDER'S LOOK AT APU
Sal Soghoian, US.
The growth is explosive. Organizations in all fields and industries are integrating mobile devices as mission-critical appliances, deployed to staff and clients. Find out how the Apple Provisioning Utility (APU) delivers robust onsite management of mobile devices using a simple plug-and-go process. Examine the practical aspects of incorporating a shared-use device strategy.
Learn how to use and customize APU to address a wide variety of deployment scenarios: from business, education and professional services, to healthcare and retail team support.
12.05 - 13.00
AUTOPKG 2020
Greg Neagle, US.
AutoPkg is a very popular tool for the automation of software updates for your Mac fleet. Originally created as a way to automate imports of new and updated software into Munki, it has been extended to work with Jamf Pro, Filewave, and other software deployment solutions.
With its explosion in popularity came many challenges. AutoPkg in 2019 and 2020 has many changes and improvements from the versions of AutoPkg presented at MacSysAdmin in 2013 and 2014. It also has additional challenges to staying useful for the future.
Greg will cover some of the important changes in AutoPkg over the past five years, and present some of the current and future challenges for this popular Mac admin tool.
13.00 -14.00
LUNCH
14.00 - 14.25
Sponsor: JAMF
Rob Potvin, CA.
In the know
The best ways at bringing new Mac admins into the fold.
14.40 - 15.35
AUTOMATED DEVICE SETUP &
Mac platform "ecosystem security"
Jesse Endahl, US.
This talk asks a simple question that's difficult to answer: what are all the things that need to be true, in order for a company to have full confidence that a Mac is "secure" by the time it's fully configured and ready for use by an employee on day 1? Answering this question requires covering some vast security engineering terrain, including Certificate Authorities, T2, Secure Boot, device attestation, TLS, and OS platform security features such as Notarization. This talk will ask more questions than it answers, and is meant to be a jumping-off point for discussion and further research (both myself and others).
15.55 - 16.20
ACCELERATE YOUR ENROLLMENT TESTING
Kevin M White, US.
When your users experience a properly configured macOS system courtesy of automatic device enrollment (formerly DEP), it can feel like magic! However, every good magician knows it takes a lot of planning, testing, and refining to make a magic trick work smoothly every time. Repeated testing of your automatic enrollment workflows is necessary both during your initial rollout and as software changes and updates throughout your deployment lifecycle.
In this session you will learn methods to iterate your automatic enrollment testing as quickly as possible. Techniques covered in this session include testing automatic enrollment for both virtual and real macOS computers.
16.35 - 17.30
ARE YOU READY FOR THIS ?
Mr W, UK.
One morning, when Gregor Samsa woke from troubled dreams, he found himself transformed in his bed into a horrible vermin. He lay on his armour-like back, and if he lifted his head a little he could see his brown belly, slightly domed and divided by arches into stiff sections.
The bedding was hardly able to cover it and seemed ready to slide off any moment. His many legs, pitifully thin compared with the size of the rest of him, waved about helplessly as he looked. "What's happened to me? " he thought. It wasn't a dream. His room, a proper human room although a little too small, lay peacefully between its four familiar walls. A collection of textile samples lay spread out on the table - Samsa was a travelling salesman - and above it there hung a picture that he had recently cut out of an illustrated magazine and housed.
Evening Activity
19.00 - 23.00
The Bash
Jamf invites you to the traditional Bash that will take place at Irish Embassy + Downtown.
Nota bene!
Please use the entrance at Östra Hamngatan 50 (next to Synoptik) and take the stairway to the second floor.
Don't go through the bar.
Tonights event is sponsored by JAMF