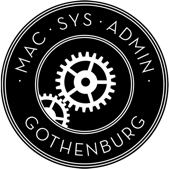 MOVING TO ZSH
Armin Briegel, NL.
With macOS 10.15 Catalina Apple switched the default shell from bash to zsh. This session will discuss Apple's motivation behind this change, the advantages and differences, whether you should switch yourself, how to transfer your bash settings, and how this will affect your management tools and scripts.
15.55 - 16.20
USERS ARE PEOPLE TOO
Andrina Kelly, CA.
As an IT Administrator, Helpdesk Support Agent or even IT Manager it's so easy to get wrapped up in the day to day technicalities of our roles. When doing a search for things that every IT Administrator should know, or looking at a typical Systems Administrator job description you'll see a list of technologies, software and tools.
What frequently gets forgotten however, is why your role even exists; we are here to support our end users. Lets talk about some of the traditional IT solution traps that disguise themselves as valuable to users, how to really find out what your users need and want out of their technology experience, and how to communicate effectively with your users, peers and management.
16.35 - 17.30
LOGGING
About Needles in the Modern Haystack
Henry Stamerjohann, DE
Every once in a while you'll read "collect the log files". How will this work with your Cloud Service, Identity provider, and SaaS solution? What's the challenges and what are the options at hand when monitoring macOS effectively for compliance?
In this session we talk about practices in storing and retrieving event information for monitoring, and review applications to build and process rich audit trails. This session aims to share our experiences made with commercial and open source backends applied to various client scenarios.
Evening Activity
19.00 - 23.00
POOL NIGHT
Chalk It Up at Biljardpalatset, Ekelundsgatan 9-11.
Be prepared for a night with good food and drink in a nice atmosphere. And of course some pool - if that's your game.
Tonights event is sponsored by ADDIGY

9.00
REGISTRATIONS
10.15 - 10.45
WELCOME
Welcome from the MacSysAdmin crew.
10.55 - 11.50
UNDOUBTEDLY A VERY INTERESTING KEYNOTE
Mr B, US.
One morning, when Gregor Samsa woke from troubled dreams, he found himself transformed in his bed into a horrible vermin. He lay on his armour-like back, and if he lifted his head a little he could see his brown belly, slightly domed and divided by arches into stiff sections.
The bedding was hardly able to cover it and seemed ready to slide off any moment. His many legs, pitifully thin compared with the size of the rest of him, waved about helplessly as he looked. "What's happened to me? " he thought. It wasn't a dream. His room, a proper human room although a little too small, lay peacefully between its four familiar walls. A collection of textile samples lay spread out on the table - Samsa was a travelling salesman - and above it there hung a picture that he had recently cut out of an illustrated magazine and housed.
12.05 - 13.00
10 THINGS ADMINS SHOULD BE THINKING ABOUT
Arek Dreyer, US.
Arek's session will cover the philosophical questions like "Will my clever solution paint my organization into a corner?", "Should I take administrator privileges away from my users?", "What if I don't want to use an MDM?" and practical questions, like "Do I need to whitelist any kernel extensions, and if so, how?", "What are some methods to re-provision devices after they've been in use", and "Which is a better text editor, vim or emacs?"
13.00 -14.00
LUNCH
14.00 - 14.25
Sponsor: ADDIGY
Jason Dettbarn, US
Putting your users at the center
of Apple Management
During this session we will focus on methods of providing the ultimate experience for your users and their Apple devices:
- We will preview never before seen & unique ways Addigy provides MDM for users.
- Enhanced security through new novel authentication of users & real-time security monitoring + remediation.
- Inevitably giving users greater performance, security, and the most enhanced experience with their most critical productivity tools, their Apple devices.